Weddings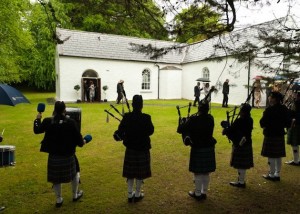 Hiring a piper to play at your wedding, dressed in full uniform and playing a finely tuned instrument will help set the tone for a memorable day. Joe has performed for weddings all over Ireland and understands that weddings are a special event and bagpipes can help add a great sense of occasion to enhance your day.
Listed below are some examples of how the pipes are often used for wedding ceremonies;
Church
Pre Ceremony playing outside the church to entertain guests 20-30 minutes before the bride arrives
Playing the Bride down the aisle to the tune of her choice or "Here Comes the Bride" can be played on the pipes if required.
Marching the Bride and Groom down the aisle once the ceremony is complete
Playing after the ceremony during the receiving line and as guests depart for the reception
Hotel
Play for the Bride and Groom when they arrive at the Hotel.  This sets a good tone for the reception with plenty of jigs, reels and hornpipes to liven up the crowd.
Pipe the Bride and Groom into the reception and top table once all the guests are seated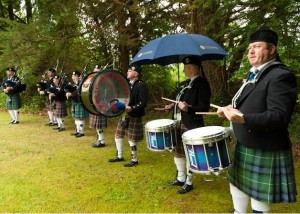 Suggested Wedding Tunes;
Here comes the Bride
Marias Wedding
The Wedding March
Highland Cathedral
Other tunes and ballads can also be played on the pipes and if you have specific requests, please let me know in advance so I can prepare accordingly.